Does Your Pooch Eat Too Quick?
The Family Pooch Snuffle Bowl
Prevent health and behavioral issues that your dog will get from boredom. This unique dog bowl trains both their mind and nose to be healthier every day.
Providing your dog with proper training while also relieving stress is this Snuffle Bowl. By hiding their desired treats inside the bowl, you are training your dog to look for food in the most enjoyable way. It encourages your pooch to investigate, solve a problem, and use their powerful nose to get that tasty reward.
Highlighted Benefits:
Reduce your dog's stress levels. Create a fun and engaging way to reduce your dog's stress levels. Hide treats in different parts of the snuffle bowl, so they are rewarded with joy as they look for these treats.
Provide your dog an enjoyable outlet for his desire. Dogs love to smell and this snuffle bowl will provide them with an enjoyable activity for them to train their desire to hunt.
Keep undesirable behaviors at bay. Using one unique dog toy, your pooch will be engaged in sniffing for treats hidden in the bowl. This will distract them away from boredom, preventing behaviors like chewing, scratching, and more.
Prevent bloating. Dogs love to eat and this causes them to overeat if we are not careful. The snuffle bowl is a great way to slow down their urge to eat, minimizing the risk of bloating and obesity.
Suitable for all dogs. From larger dogs to smaller one, this snuffle bowl is a total nose playground for all dogs to relieve stress while also training their mind and nose daily.
Family Pooch is dedicated to making the world a better place for dogs and their families, one excellent product at a time. Order today and experience why this product is considered an investment for your dog's health and well-being.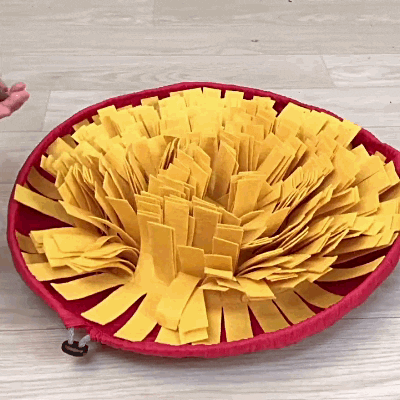 SIZES:
Sizes are approximate depending on style, and most are adjustable:
Small: About 7.09x7.09x1.97inch (18x18x5cm) 
Medium: About 8.66x8.66x1.97inch (22x22x5cm)
Large: About 13.78x13.78x1.97inch (35x35x5cm)
With every purchase from this shop, you are guaranteed:
Quick, worldwide delivery
Quality products for a reasonable price
Easy, customer-orientated returns policy
PRODUCT QUESTIONS & ANSWERS
Is the Snuffle Bowl durable?
Yes!  It is very durable and should provide you with years of use if taken care of properly.
How often should I clean it?
Some people clean it every day, and others weekly.
Is it non-slip?
Absolutely!  It has a non-slip backing making it perfect for the active pup!

Are there tips and tricks on using?
Snuffle Mat and Bowls should be introduced to you pup.  Check our blog article How to use the Snuffle Bowl and Snuffle Mat
Our 5 Point Customer Promise
Best Price Guaranteed.

Safe payments via PayPal®.

30 Day Money Back Guarantee.

Help when you need it. We got you!

Tracking number for every order